I enjoy working with individuals, couples and groups from many racial and ethnic backgrounds, all genders, spiritual and religious traditions. Over the years I have worked with lesbian, gay, bisexual and transgender clients as well as heterosexual clients. I also assist business partners, colleagues, groups and organizations in creating more effective communication and supportive collegial relationships.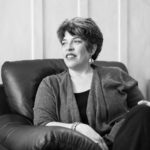 Each one of us needs and deserves to have people with whom we can be all of who we are — places where our stories can be heard with compassion. Every time someone allows me to see more of the fullness of who they are, it is an invitation for me to bravely meet them there.
I am trained in Sensorimotor Psychotherapy, an integrated mindfulness and somatics approach to therapy and healing trauma. I work collaboratively with health care providers and other practitioners to create a multidisciplinary care plan when appropriate. I provide a holistic, bio-psycho-social approach to collaborative care, offering warmth and compassion seasoned with years of experience, education and training.
I have had the privilege of supporting countless clients with a variety of life challenges, such as:
Grief and Loss
Healing Trauma
Pregnancy, Infertility, Miscarriage and other health-related issues
Food, Body Image and Addiction
Premarital Counseling for All Genders
Interfaith and Multicultural Couples
Sexuality and Intimacy
Privacy in the Digital Age
Privacy and confidentiality are cornerstones of the therapeutic relationship, and as such it is important to understand the risks of using electronic communication for communicating protected health information. While it is not possible to completely guarantee the security and confidentiality of electronic communication, it is critical to be informed and mindful about these issues.
In order to best protect client confidentiality and to ensure the ethical boundaries and safety of the therapeutic relationship, I do not engage with clients in any way on social media sites. This means I do not accept requests for contacts, friends or fans (on sites like Facebook, LinkedIn, etc..) from current or former clients.
photo by 
Sarah Deragon